About us
Assalamu Alaikom,
We wish you a warm welcome to the (English) webpage of the Ahlalbait Youth Organization, based in the Netherlands.
The organization has been set up on a voluntary basis by the Shia youth to provide services for the Muslim youth, with the main focus on the Ahlalbait followers. The organization is independent and works for the interest of the Ahlalbait youth in the Netherlands.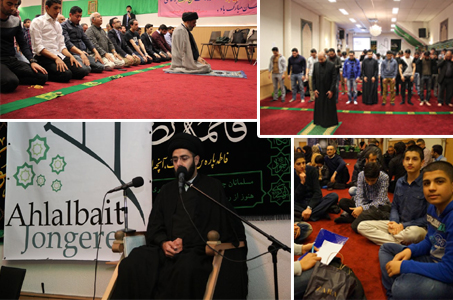 Our objectives are, firstly to provide the Shia youth in the Netherlands with a place to share and obtain knowledge and secondly to help the youth recapture their identity and spiritual belief.
As our own religious identity is important, so is the society we live in. The main language spoken within the organisation is therefore Dutch.
A concise list of the main aims of this organisation:
- Informing the Shia youth on their beliefs, its principles, ideologies and guidelines.
- Raising awareness and sharing knowledge about Islam and the principles of Ahlalbait with non Muslims and non Ahlalbait followers.
- Increasing the understanding between non Muslims and Ahlalbait followers and to bring these groups together.
- Stimulation of integration and emancipation of the Shia Muslim youth in Dutch society.
- Advising and supporting the Shia youth in their day to day issues, with problems ranging from work and education to family and more.
- Acting as a vocal point for Shia youth towards various authorities and organizations.
- Providing solutions and implementations for problems and issues faced by the Muslim youth in the Netherlands.
- Celebrating and commemorating religious events.
The organization does not differentiate on the basis of origin and is open for all Muslim youth. It tries to stress the importance of a unified Ummah and therefore welcomes all. This is reflected in the passive and active members in the committees and the board, who all come from different backgrounds and cultures.
To achieve the aforementioned aims, debates and lectures are organized to share knowledge. Next to this the celebration of religiously important events, recreational and educational activities are organized.
The organizations management consists of a board, which is responsible for the general strategy and provides coherence within the organization. The various committees are responsible for the organisational aspects of the activities. All the registered passive members act as sounding board for the organization.
Registering either to participate in one of the committees, or as a passive member supporting the organization financially is possible at all times. The activities are open to members and non-members; the only thing we encourage is participation in the many educational and recreational activities.
Contact us by sending an email through the general contact form. See the menu under the header.
Wasalam,
Ahlalbait Youth Organization
Tags: english, about, organisation